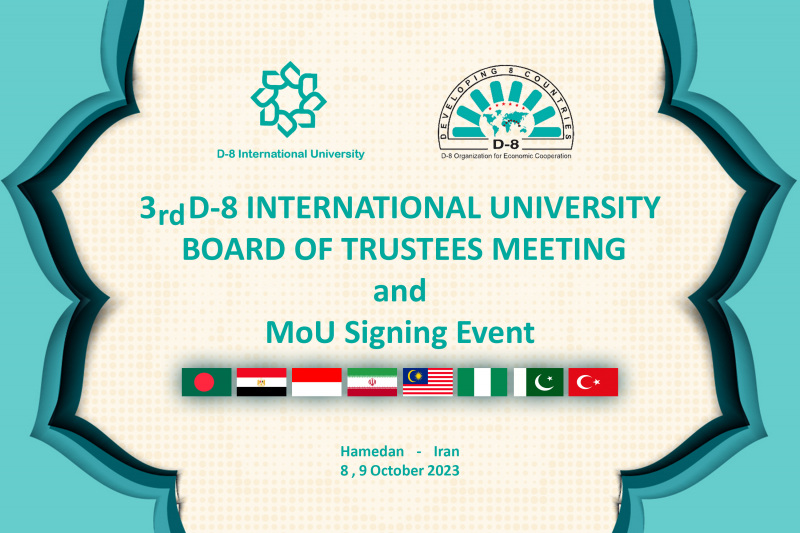 30 Oct 2023
Documentary film of the 3rd D-8 INTERNATIONAL UNIVERSITY BOARD OF TRUSTEES MEETING and MoU Signing Event
Documentary film of the 3rd D-8 INTERNATIONAL UNIVERSITY BOARD OF TRUSTEES MEETING and MoU Signing Event
On October 8, with the presence of senior officials of the member state countries and the Secretary General of the D-8 Organization for Economic Cooperation, D-8 International University signed memorandum of understandings with five universities from Malaysia.
Malaysian universities that signed a memorandum of understanding with D-8 International
University are:
1- Universiti Malaya
2- Universiti Putra Malaysia
3- Universiti Kebangsaan Malaysia
4- Universiti Teknologi MARA
5- Universiti of Malaysia Pahang Al-Sultan Abdullah
On October 9, the third Board of Trustees meeting was attended by H.E. Prof. Mohammad Ali Zolfi Gol, Minister of Science, Research and Technology of Iran, H.E. Dato' Seri Mohamed Khaled bin Nordin Minister of Higher Education Malaysia, H.E. Prof. Mukhtar Ahmed Chairman of HEC Pakistan, H. E. Isiak Abdulqadir Imam Secretary General D-8 Organization for Economic Cooperation, H.E. Dr. Abdul Razak bin Ahmad EMGS Chairman and the accompanying delegations were held.
Also H.E. Prof. Tahir Mamman, Minister of Education, the Federal Republic of Nigeria, H.E. Dr. Dipu Moni, Minister of Education, Bangladesh, and also Directors representing the Ministry of Education, Culture, Research, and Technology of Indonesia participated online at the Third Board of Trustees meeting of D-8 International University.